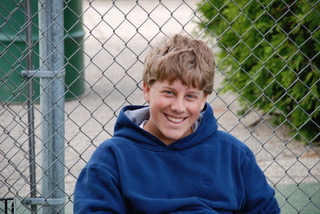 In memory of my beloved son, Zachary Tabak, 1991-2018 What follows are two eulogies given at Zachary's funeral on April 25. The first was mine, the second by his lifelong best friend, Jed.
Notes from Zach's Father
Thank all of you who sent notes or stopped to visit. Diane and I and Josh have cherished every one of them — it makes a huge difference. I'd like to say a couple of things. But first something of a public service announcement. I know that there's much in the popular literature, based on real trends, about college graduates boomeranging back home. And the general tone of these on the parental side is often a sort of comic dread. I wanted to tell you that like a lot of clichés, this can be so wrong. The last four or so years with Zach have been so wonderful. You send away a moody, cantankerous teen and get back a college graduate, a regular person who not only has interesting things to say, but is suddenly interested in what you have to say as well. Zach was always game. Willing to hop to the movies with Mom — midnight premieres were a natural for these two night owls. Zach and I did so much together. Last night we were scheduled to play tennis at 6 and would probably have headed over afterwards to trivia night at the Nitty Gritty where we also watched so many Badger basketball games, eating way too many fries. He was a master of the remote control as we watched every episode of Jeopardy for the past five years — always on DVR, fast forwarding not only through the commercials but the chit chat. Each half-hour episode in fourteen minutes, binge watching five at a sitting, shouting out the answers, or should I say questions. Or Sunday night John Oliver live, getting absorbed in one HBO original series after another. How will it be possible to watch the resolution of Game of Thrones without him? I should also issue a warning. About how powerfully intertwined these lives become. Of course, we didn't really notice. Now everything, to use the au current phrase, is a trigger. Every single everyday act. Open the refrigerator and there's his favorite drink. Walk into his bathroom and experience that instantaneous, involuntary reaction that darn it, he's done it again, left a clump of hair in the bath drain. And then in the same instant, the reversion to reality with the accompanying irrational urge to save it. Flipping to the DVR memory, eyes finding only his shows, the movies and shows he'd marked to watch. Every single everyday action a string, which is attached to a hundred other strings, to a thousand others. Every single everyday action a tug on that string, a loose thread on a tightly woven sweater, and each time the sweater unravels into a pile of chaotic yarn. Of course Zach had a rich life outside of our home, and to those of you out there we offer our thanks for helping to provide these experiences. His colleagues at WPS, where his work was the foundation of his self-esteem and sense of purpose. The folks who organized Madison Pinball. The Madison Backgammon Club. His card-playing friends. He would disappear with you for happy hours, sometimes entire weekends. And I have to mention how much he worshipped and loved his brother Josh, and celebrate Zach's lifelong effort to imitate his role model's elegant, effortless mastery of every pursuit he touched, even when it required from Zach superhuman effort. So many memories. And each of you out there, you have a piece of that fabric, many of them unknowable to me or Diane or Josh. And when I look across this gathering, I realize that for this one moment in time, for this one time only, we have in one room a tapestry of his life. In our liturgy we say that our loved ones live on in our memories. This brief time with all of you is the purest example we will ever have of that. Thank you for this wonderful gift.
Jed's Tribute to Zach, April 25, 2018
I'm Jed Grimmer, and I've been a friend of Zach's since first grade at Crestwood. We lived two blocks from each other, and I was over at the Tabak's constantly. Larry and Diane, I want to say that you did a great job as parents raising Zach. He was a very special young man who was highly respected in his communities, committed to the things he loved, and deeply valued by friends. I know that he loved and respected both of you so much. Josh, as Zach and I grew older together, he would spend a ton of time telling me about your success in Magic, in your academic life, competitive gaming, and in your work life. He looked up to you so much growing up, and I am so sorry that you lost your little brother. I want you to know that he was very proud of you. To Zach's friends here today, I am deeply sorry for our loss. Words can't describe the intense sadness I felt when I heard the news of Zach's passing early Sunday morning. You measure a friend by kindness, by devotion, by their interest in you, by their always being there for you. And Zach was simply the best friend anyone could have asked for. He was someone that I knew I could trust and talk to about any subject or problem. Zach was extremely talented and smart. Although he was only 8 months older than me, in many ways he was a mentor to me, especially when it came to the competitive games we loved playing, poker and Magic the Gathering. Zach was funny, caring, kind, loyal, confident, humble, and very, very laid back. He was simply my go-to person to talk to about anything. I knew that I could tell him anything without him judging me, and that he would be able to give me objective criticism in a way that was always helpful and most importantly, positive. He could watch me play a hand of poker, tell me why what I just did was known in the poker community as 'a donkey move', and teach me about the logic of the game, all while being super nice about it. Growing up we were both kind of shy, and we bonded quickly at Crestwood. I remember once when I was in 2nd or 3rd grade, I was being bullied by another kid. I told Zach about it at school and he told me not to worry about what some bully thinks, to ignore them and turn the other cheek. Then he told me to just come hang out at his house after school and we could play a board game or watch a movie and have some popcorn. So Zach was a problem solver. Some of my earliest memories were going to his house after school, making microwave popcorn, and then playing ping pong in his basement for hours, or playing chess, board games, Magic or watching The Lord of the Rings and Star Wars. He always had good taste in culture, and he introduced me to films, games and activities that to this day I still love. The Tabaks were also kind enough to take us to Badger Basketball games at the Kohl Center, and drive us to Pegasus Games to play magic cards at a very young age. I would lose every single game at Pegasus to the older players, but it didn't matter, because we were having so much fun and Zach was encouraging me every step of the way. I still remember sitting in the back seat of the Tabak's car coming back from Friday night magic, and reliving every moment of every game with Zach, and talking about all the cards we played and all the strategies. As we got older and moved into middle and high school we stayed close. We had poker nights at his house all throughout middle and high school, usually on Saturdays, and his parents would bring us pizzas and bake cookies for all of our friends. Those nights in Zach's basement playing poker with everybody were some of the happiest times of my life, and I will cherish those nights forever. Playing poker with the crew in the Tabak's basement started with Zach, myself, Scott and Byron and quickly grew to include Lucas, Nick, Danny, Kazu, Zhenyu, Michael, Ben, and whoever else wanted to come and join the group of regulars to give their money away to Zach. I would ask my parents to do chores so I could earn 5 or 10 dollars to take to the cash game at Zach's house. I remember that we played 10 cent 20 cent blinds, and winning a big pot of 10 dollars felt like a small fortune back then. I would also like to add that in those games, Zach would win almost every single week, although none of us cared about any of that. We were all just there to have fun, laugh, and crack jokes with each other. As a bonus, Zach was teaching us all to play poker the way it was meant to be played. He was such an amazing person, especially once you got to know him and he trusted you. He had an amazing sense of humor, and it was typically done in a sarcastic way that was hilarious. He had a smile that could light up a room, and a laugh that always made me follow along and start cracking up as soon as I heard it. Any time Zach was laughing about something it was usually contagious. We were roommates for a year at UW Eau Claire and he was the best roommate ever, we went to Friday Night Magic together, bowled, and played pool all the time in the student lounge. Zach was very good at pool, and we always had fun competing against each other no matter what game we played. Zach graduated with a degree in economics and was well on his way to passing all the actuarial exams. He competed at a extremely high level in Poker, Magic, Backgammon, Pinball, bowling and tennis. (Although he was pretty bad at a game called catchphrase, where he once failed to describe what a mattress was, much to the chagrin of his partner in the game our friend BK.) His tennis ability playing for Memorial High School's varsity team was predictable, since the apple doesn't fall far from the tree. Zach was also a talented musician, who could read music and although he liked Dr. Dre and Snoop Dog, he was more classically trained, playing the flute, piano and guitar. Zach was a masterful player in poker, and quite ruthless. Although Zach was shy in many situations, he was always comfortable and confident on the poker table and one of the sickest players I have ever seen. He would put his entire stack in on a pure bluff without any hesitation or fear if he knew it was the right play logically. I watched him strike fear into many people's hearts on the poker table, and take many a stack from unsuspecting donks, short for donkeys. But despite his skill and success he was always very humble and gracious, never trying to have his poker victims feel like victims. A couple years ago he started playing more Pinball and got into the competitive scene, going throughout the Midwest to compete at Pinball. He also began to play backgammon at a high level just a few years ago, and would tell me about the club he went to during weekday nights to play Backgammon with new friends and learn and improve. He was always looking for new strategies and ways to improve, and always trying to compete against himself to make himself into a better player. He was a world class Mario Kart player (a Nintendo game), and he always used to kick our butts when we played back in the day. He told me about a tournament he played in Michigan a year or so ago, where he went up there and met a bunch of new friends. He won 1st place in that tournament and was very excited about it, and I was happy he got the chance to do that. Beyond everything Zach accomplished, and beyond how great he was at all the different games he loved, I just want to stress to everyone what a great friend Zach was, what a great person he was, and how much he loved his family and friends in life. He always treated everyone he met with respect, kindness, and dignity. He is and always will be a role model to me, and someone I take many life lessons from. Lastly I would like to say on a personal note, I love you Zach, and although it really hurts that I didn't get to say goodbye, I know that we had that unspoken bond that we both could feel in our hearts, the kind of bond you get from a lifelong friendship with someone you really care about. You meant so much to me and my family, and I will never, ever forget you. Twenty-six year olds are diamonds in the rough, just waiting to break out and shine, and I have no doubt in my mind Zach, that great things were in your future. You were already beginning to break out, start your career, start your rise as a competitive player in so many different fields. But you were already a perfect diamond as a friend. I just wish I would have been able to see the great things you would have accomplished, and the man you would have grown into. I always pictured you being there for my wedding, being there to help teach my kids how to play poker and magic, but I'll make sure I tell them about you and all the great times we had and stories we shared. I will take the lessons you left me and the kindness you showed me and use them in my life, and work to be a better man. The world has truly lost a unique, kind, loving and gentle soul that was one of a kind. Rest in peace, Zach.